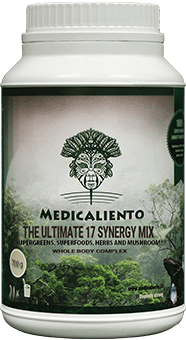 THE ULTIMATE 17 SYNERGY MIX
The ultimate 17 synergy mix - is an herbal superfood mix in powder form. It consists of 17 types of raw materials of the highest quality.
The individual components of this mixture are mixed so that they complement each other synergistically. This mixture is rich in vitamins (A, C, E, D, K1, K2, U, B1, B2, B3, B5, B6, B9 - folic acid, B12), minerals, enzymes, proteins, fiber, antioxidants, beta-glucans and other beneficial substances for the body, thanks to which these raw materials have earned the designation of superfood.